7th September 1930 - 8th March 2022
Funeral Details
St. Stephen's Uniting Church
177 Beechworth Rd, Wodonga VIC 3690

Date: Tuesday, 22nd March 2022
Time: 1:30pm
At the conclusion of the service, the cortege will leave for burial at

Glenmorus Memorial Gardens
Glenmorus Street (end of Union Road)
Glenroy NSW 2640
[view map]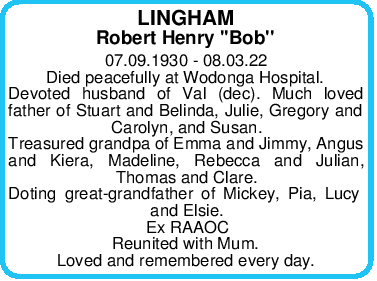 PLEASE NOTE THE INTERNET CONNECTION HAS NOT BEEN SUCCESSFUL AT THE CHURCH SO THE SERVICE WILL BE UPLOADED THIS EVENING FOR VIEWING TOMORROW. WE APOLOGISE FOR THE TECHNICAL ISSUES.
John Hossack Funeral Service is not held responsible for any interruption, quality issues, or failures that may occur as a result of internet service or hardware malfunction to any live-stream or recordings.
Please note that if the live-stream loses connection due to internet connectivity, we will upload a copy of the entire service in place of the live-stream. This will usually be done within one business day.